Allay™ Next
Once upon a time there were three bears...of course everyone knows the Goldilocks dilemma, comfort in bedding is a balancing act. With Allay™ Next we feel we got it "Just Right". Allay™ offers amazing comfort with a soft, plush feel, and exceptional comfort that comes without compromising support. Allay's™ unique chemistry starts plush and firms up to match your body type. Even the most comfortable bed can get too hot to sleep. Allay™ Next has that solved too. Allay™ was designed to allow maximum airflow to keep you cool and comfortable all night long. Again, that is a balance in comfort through chemistry.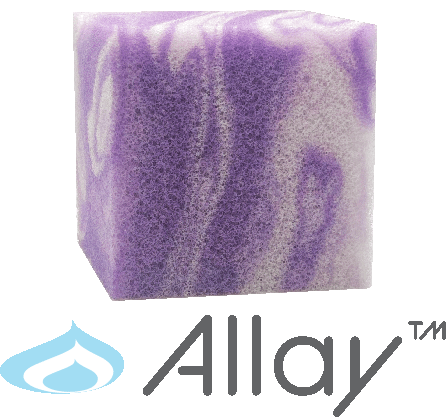 Peak Comfort
Like sleeping on a cloud, Allay™ Next is soft and comfortable.
Superior Support
Allay™ offers uncompromising deep support to match your body type.
Cooler Through Chemistry
A cooler night's sleep due to the best airflow of Allay™ Next.
Support
Allay™ Next has incredible comfort factor married with deep support. While it starts soft, added weight causes Allay™ to firm up providing a better balance of support and comfort.
Technology
Allay™ Next is designed to be breathable with the best airflow. This innovative chemistry allows all the best aspects of a foam bed while keeping you cool all night.
Let's Work Together
The most innovative products come from the most innovative people - and for over 55 years our team has been propelled by curiosity and a steadfast dedication to inventing and creating the best foam formulations for our customers.